Money, Money, Money. It's all about the green (on and off the field).
Are you struggling every season to stretch your budget? Trying to do more with less?
Athletic fields cost money to build and maintain. And the related staff costs just keep going up and up.
So how can you have a quality, professional grade portable outfield fence for all your athletic fields without busting your budget?
Here is the easy answer: SportaFence. And let me tell you why.
SportaFence is a patented, professional grade portable fencing system with retractable wheels. It can be easily adjusted for varied distances and dimensions on your athletic fields.
(Read my first blog to see what this portable baseball outfield fence can do for you.)
Take advantage of the 5 step program below to see how SportaFence portable outdoor fencing can not only bring a professional atmosphere to your outfields, but even generate money every year!
First step:
Before you purchase SportaFence, start the conversation locally. Are there community agencies that would be willing to share costs for a portable outfield fence? You bet there are!
Partner with a community agency such as:
Little League
Your city's park and recreation department
Your county's park and recreation department
A local high school
Community college
Even a university
Teamed up with a paying partner extends your green. With others sharing in the cost, you don't have to spend as much from your budget.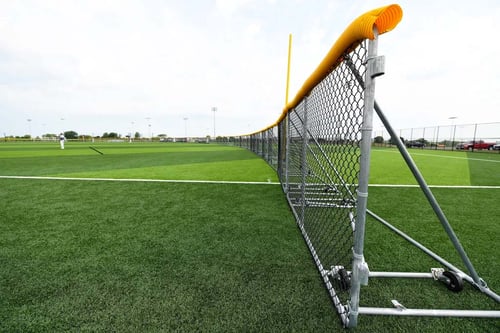 Second step:
Ok, you may strike out in partnering with a local agency. Not to worry. If they won't join in the initial investment, why not rent SportaFence to local agencies for their games or events?
The local agency can pay you by renting the portable outdoor fencing when they need it for their special events.
SportaFence portable fence panels can be used for:
Special Events
Fun runs / Races
Festivals / Carnivals
Parades
Beer gardens
Skating rinks
Air shows
Crowd Control
Conferences
Tournaments
Parties / Receptions
High school graduations
Concerts
Fireworks shows
Tailgate parties
Temporary security barriers
Construction sites
Camping areas
Pre-schools (day camps and summer camps)
Parking lots
Dog parks
Spoiler Alert! I'm getting ahead of myself with telling you this next strategy: This approach of renting augments Step Three with convincing the powers to be that the SportaFence portable outfield fence investment can generate money for your organization.

Third Step:
Investing in your baseball or softball field portable fencing may require convincing the higher-ups to allocate funds. After you have explored (and hopefully secured) partnering with a community agency, now look at marketing your fields.
SportaFence increases your opportunities to market your fields for tournaments.
SportaFence meets NCAA tournament requirements: hosting tournaments in your community can increase revenues. This not only brings in money for the tournament host, but local businesses as well: hotels, restaurants, transportation and shops.
Talk about broad base community support! Everyone wins!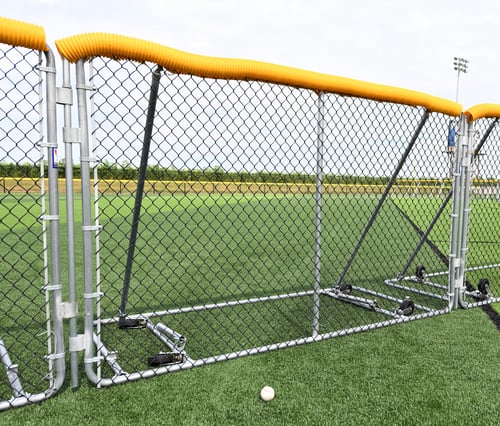 Fourth Step:
This next step is frequently overlooked. But it can generate BIG BUCKS for you.
Apply for grants from:
Federal
State
Local agencies
Private sources
For "going green," saving water and natural resources for multi-use sports parks.
There is a lot of grant money waiting to be collected. You just have to apply and ask for it!
Fifth Step:
Here's yet another way to collect someone else's green.
Sell ads on each SportaFence panel. I bet your local business would jump at the chance in supporting the local ball fields by purchasing ads to be place on the portable outfield fencing.
Earn up to $500/panel each year. With a 300' portable baseball outfield fence, that's about $25,000 per year in ad revenue. And the money just keeps rolling in.

So let's get started. Contact me today for your FREE SportaFence portable outdoor fencing quote.