It's a scary thought that a player can sustain a serious or life threating injury on the field. And it can happen in an instant.
And you not only need to think about your players' safety, but staff as well. They can be injured setting up or working on the fields.
What can you do to protect your players and staff? One area you can make your facilities safer is with portable outfield fencing. Specifically SportaFence. In fact, I've found SportaFence, a portable fencing system, enhances player safety.
What?!?
How can temporary, portable outfield fencing make a difference regarding safety?
Let's talk construction.
Let's first talk about SportaFence's professional grade portable panels. They are constructed of galvanized steel and 8-gauge coated chain link wire. Why that is a stronger gauge wire than permanent fencing! And galvanized steel can take quite a lot of punishment.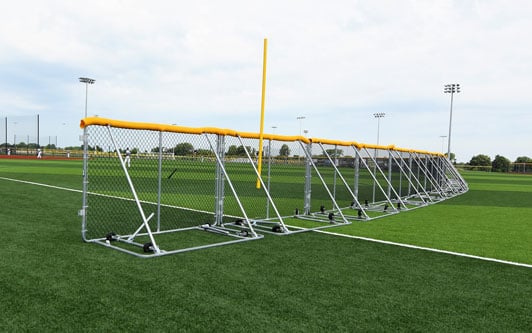 Connectors secure the 6x10 foot portable panels together to form one continuous fence to the specific field dimensions. Those connectors are also made from galvanized steel.

Let's talk safety on the field.
SportaFence enhances player safety. How does a portable outfield fence do that? Here's how: There is a slight "give" in the potable fence panels that absorbs energy when a player makes contact with the fence, thus reducing possible injuries to that athlete.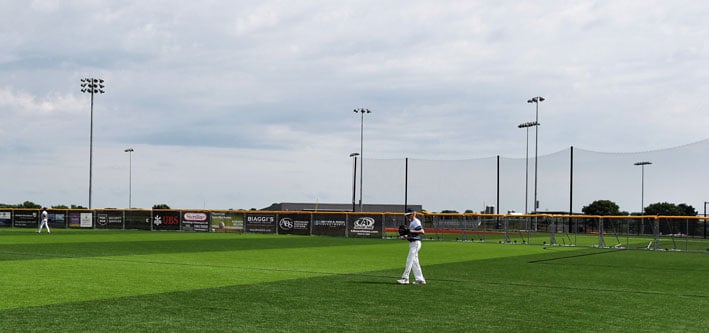 Safety extends to set-up staff. There is minimum lifting when setting up SportaFence on the field. The portable fencing panels are simple and quick to wheel into place.
Set-up staff can adjust field dimensions quickly by rolling SportaFence into place.
Use on natural or artificial turf
Easy set-up. Two staff and a gator can set-up a field in about 1 hour
Storage is easy with collapsible back braces
I have heard nothing but positive feedback from staff when they use SportaFence on the field. In fact, some directors have sought me out and, unsolicited, told me it is the best product they ever have bought for their department. Hands down!
Safe for the field
No holes in the field
Solid core wheels (never goes flat)
Wide wheels to protect the natural or artificial turf
And since it is a professional grade portable temporary outfield fence, it can be left on the field year round.

Alright, but who is using SportaFence portable outfield fencing?
SportaFence can be seen in use at: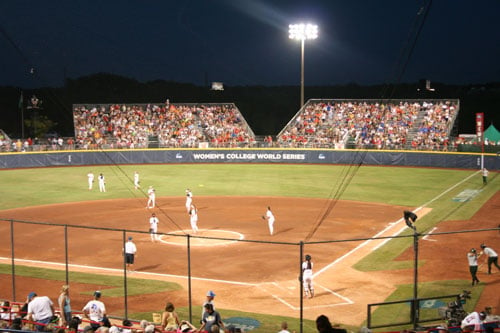 Additionally it is used at major events and meets NCAA tournament requirements. Here are just some of the locations where SportaFence portable fencing is used:
NCAA Women's College World Series Divisions I, II, and III.
NJCAA Division I National Championship Tournament.
2015 Pan American Games in Toronto, Canada. The world's third largest international multi-sport games.
World Cup of Softball Championships in Irvine, CA since 2014; an ISF sanctioned event.
The Amateur Softball Association of America (ASA), Oklahoma City, OK.
Not only does the fencing enhance player safety, but you can also have your team play with a professional level portable fencing system. It makes a difference!
Keep your players and staff safer with SportaFence. Request your portable outdoor fencing quote online today. Safety starts right here, right now!